In September 2015, a dramatic close call shook up the Chesapeake Virginia Dog Fanciers Association's All Breeds Dog Show. A car caught fire with a Mastiff, named Lemon Chiffon, inside, while his owner was in the ring. Thanks to the quick thinking and actions of a sheriff's deputy, tragedy was avoided. Wayne Spencer, a volunteer deputy with theChesapeake Sheriff's Office Auxiliary Corps, noticed the smoke pouring from the vehicle. Without hesitation, he removed Chiffon and drove the car away from the crowd and parked RVs. The car later exploded into flames. Because of Spencer's brave actions last year, no lives were lost.
At this year's show, on September 24 and 25, the organization honored the sheriff's deputies and included them in a photo with the Best in Show winner, GCh Legacy Random Titleist (English Springer Spaniel, shown above), and the Reserve winner, GCh Mephistos Speak Of The Devil (Boxer, shown below).
"I feel like the deputies are the unsung hero," the club's Vice President Liz Bianchi told AKC.org. "These are nice people, who are always ready to pitch in. They deserve some recognition."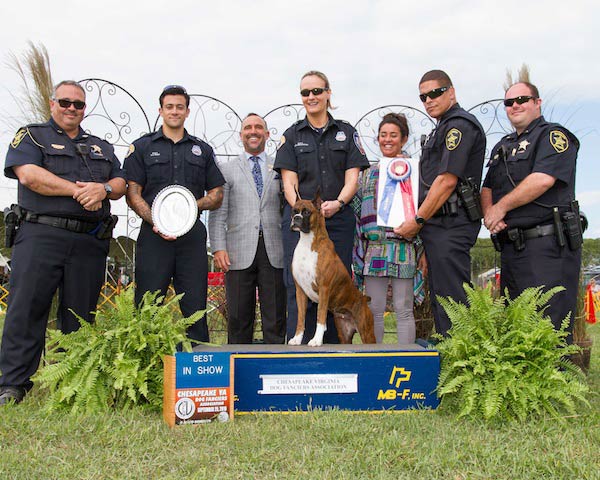 "Their selflessness and swift actions truly exemplifies these individuals and reflects the Chesapeake Sheriff's Office dedicated service to our community," the Virginia Sheriffs' Association posted on Facebook last year following the rescue.
See more photos from the event on Facebook.