Much ink and tears have been spilled following the death of photographer Bill Cunningham. The longtime New York Times fashion columnist and photo/video essayist has been both hailed as the last of a dying breed, and a truly singular man of warmth, kindness, curiosity, and remarkable vision. He is mourned by the fashion glitterati and society mavens, and the everyday inhabitants and underrepresented street-dwellers of New York City, as he documented both with irrepressible energy and devotion in his half-century career, which received further far-spanning recognition upon its depiction in the marvelous 2011 documentary "Bill Cunningham New York." Cunningham obsessively, almost monastically, wove a narrative of how people interpreted trends and outright bucked them, as part of their daily quests for survival, fulfillment, and self-expression.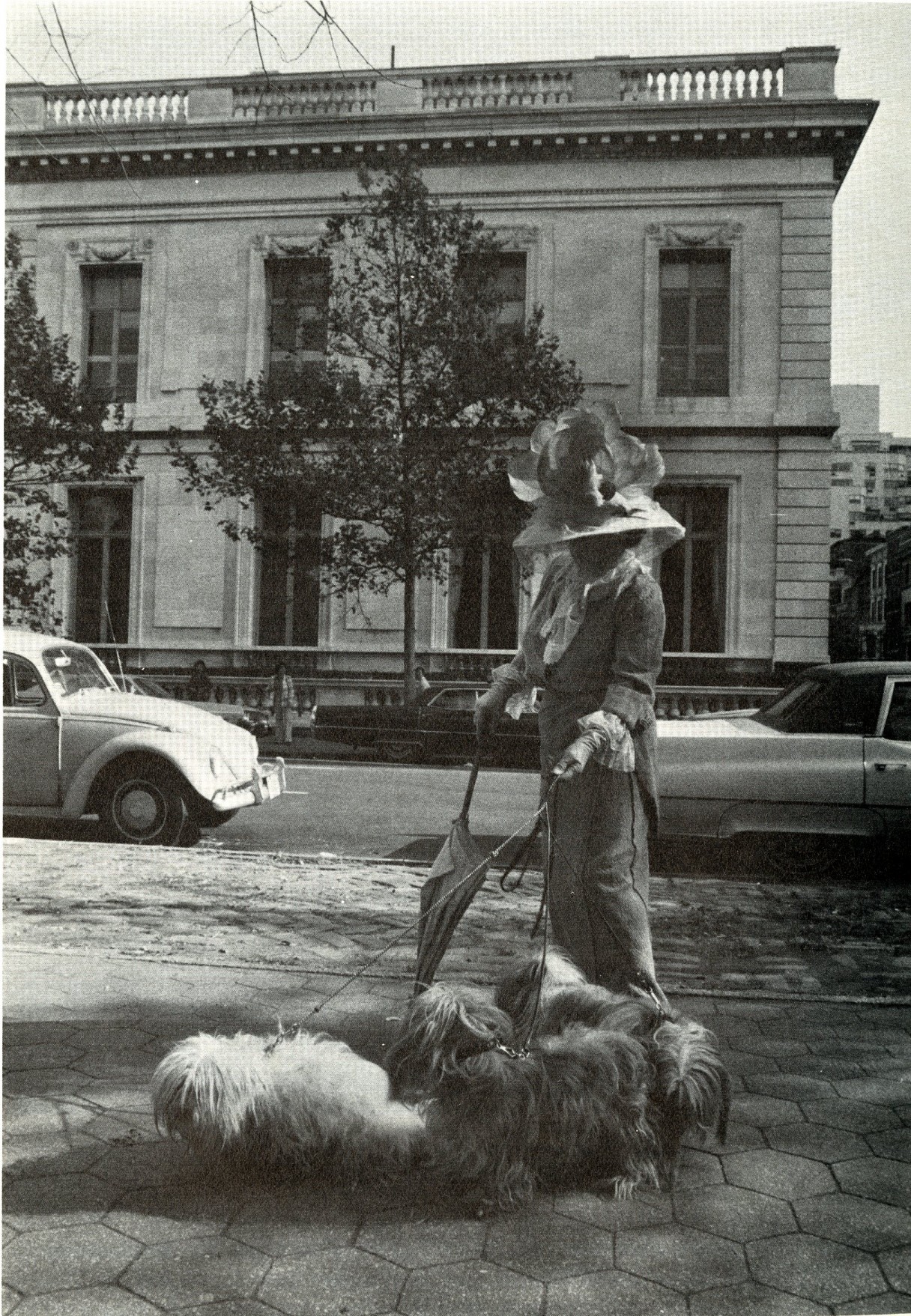 "Fashion is the armor to survive the reality of everyday life," Cunningham declared, a value that many might also apply to pet ownership. Most poignantly, the flaneur likened his own experience and enjoyment of the city to that of a dog owner, devoting his August 31, 2008 collage to the scene following the opening of the Grand Central elevated roadway to pedestrians, and marveling that "everything imaginable on wheels—except cars—whizzed by. It was a photographer's and dog walker's dream."
Even a cursory review of his work reveals how often New Yorkers' four-legged companions caught Cunningham's eye. He admired them equally whether they were seamlessly blending in with a well-executed ensemble, or ostentatiously sporting their own. The winter always brought out canine outerwear and weather boots, in addition to further voluminously furry accessorizing of enshrouded owners, though on February 25, 2007, the humans were surpassed in chicness: "dogs and humans seemed to have exchanged slipcovers. A Great Dane wore a hooded down jacket. Another pampered pet entered Tiffany's in a white-knit sweater trimmed in mink, with a gold-sequined purse attached, wearing rose-tinted glasses." In these treasured "On the Street" columns in the Sunday Styles section of the Times he has alternately praised a "sleek dog" (December 2001) and "a color-coordinated dog" (June 2008) as "the ultimate accessory" for all seasons, while also admiring the deployment of "a cuddly lap dog to initiate conversation" in the city's overwhelming cloak of anonymity and mystery.
On the blog "Native New Yorkers" Amy Phillips Penn recounts perfunctorily strolling to the park with her former husband and his Persian Saluki, Pasha, in 1981 only to end up on the cover of Cunningham's then-employer Women's Wear Daily. Though she claims neither of them spelled "glamour" or "ambition," they were captured for posterity by Cunningham, charmed by the old Shetland Sweater wrapped around the long-limbed hound. Penn bemusedly recalls a friend's dismay that she and her gaggle of Pomeranians were never elected for such an honor, yet meanwhile her father-in-law was interrogated by Vogue for tips on tying the sweater.
In a one of his most direct and charming canine-centric columns, "Doggy Bags," (August 5, 2007) Cunningham illustrates offbeat textural inspiration provided for the fashion industry: "Novelty handbags often suggest different breeds of dog. There is the wrinkly Shar-Pei, whose folds of skin are reflected in an array of puckered leather bags. There also are dogs who call to mind the shaggy-look leather bags." He also highlights Priscilla Snyder's artisan handbags, "three-dimensional sculptures" representing iconic breeds such as Basset Hounds and Pugs.
Dogs proved an effective accessory and metaphor for the gender with fewer options in sartorial flourish, and not just as a girl-magnet. On June 14, 2009, "Monkey fur showed up on the back of a young dandy; another strolled by in a tall hat with the tiniest dog on a leash—in a black coat, of course." His December 4, 2011 paean to male fashion nonconformity was titled "Off Leash," and paralleled his subjects to the dogs featured in the famous holiday windows of Bergdorf Goodman that year.
In his introduction to Facades, a 1978 exhibition catalog for a Cunningham personal project, its curator (Fashion Institute of Technology galleries director) Marty Bronson confided that their lifelong friendship was founded on the photographer's fascination with his Great Dane, which appeared in a routine assignment fashion show. Though he shot the dog with practically every model gracing the runway, the news that Bronson had six more at home, several of them champions, "somehow ignited a spark of documentary compulsion within him, and he spent the following weekend at our country house photographing a day in the life of the dogs."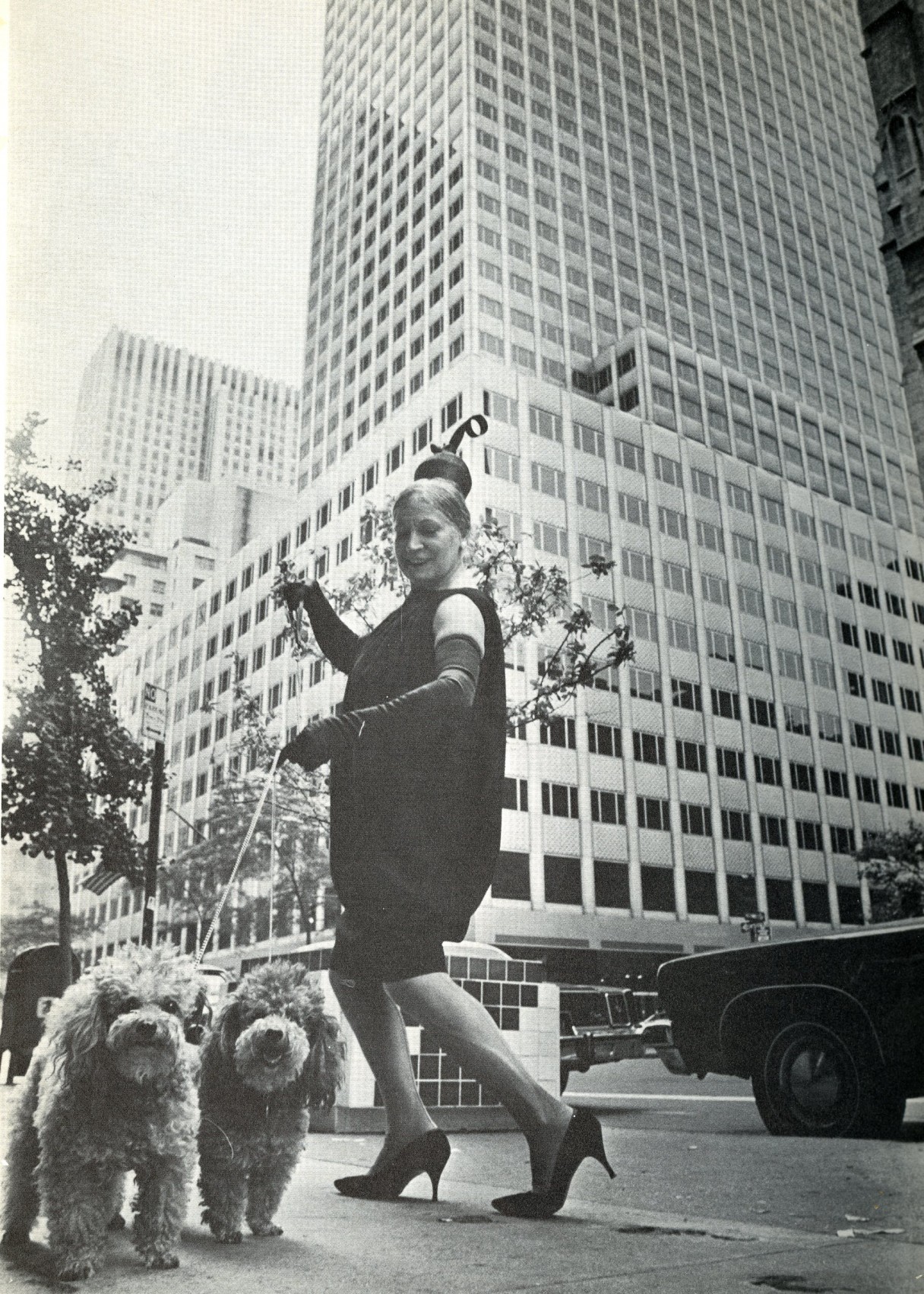 Facades was born out of a desire to compare NYC architectural and fashion design over the ages, and cast Cunningham's longtime friend and neighbor Editta Sherman (otherwise known as "The Duchess of Carnegie Hall") due to her unflappable spirit and 'closer to reality' figure that could suitably fill the centuries-spanning ensemble of costumes Cunningham pieced together from thrift stores, street fairs, and auctions. Over the course of their 8-year collaboration she donned linen in the sleet and wool in the humidity, and always took the subway so she could stand and avoid wrinkling the garments.
Dogs ornament three of these indelible tableaus, the first in front of the James B. Duke Mansion on 1 East 78th Street. Embodying the early 20th-century lady of leisure that would traipse the glorious Fifth Avenue neighborhood epitomized by the nearby Frick residence, Sherman wears a tailored suit that Cunningham suggests mirrors the classic column favored by architects of the period. Her florid hat supplies the capital to the column, while a trio of long-haired toys the base.
Skipping several years ahead to 1918, Sherman walks two dogs in front of the Racquet and Tennis Club, a Park Avenue institution designed in the palatial manner of the Italian Renaissance by the famed McKim, Mead, and White firm. Though Sherman's floor-length tapestry coat and equally interminable string of pearls hardly read as the sportier direction taken by postwar fashion to today's eyes, they delightfully compliment her exaggerated fur hat and muff and jaunty gait. In the last image, Sherman dons a little black dress, the popular late-1950s chemise forever cemented in association with Fifth Avenue by "Breakfast at Tiffany's." A capricious tiny hat, French twist, stiletto heels, and two poodles directly addressing the camera ready for their close-up complete the look of an on-trend woman in the commercial epicenter.
Whatever the era, sometimes dogs could be depended on to supply the sharpest and most surprising bursts of whimsicality or aestheticism in the trenches of New York, be it a skateboarding Bulldog, a sunglasses-donning Pug, or, as in a recent May 24, 2015 column highlighting spring colors and the white gowns revealed by graduates shedding their cap and gowns when Cunningham beautifully and elliptically concludes his caption, "One curious sight: a white dog passing a row of house painters."